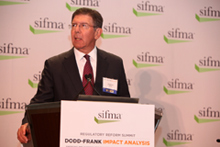 Two financial industry trade groups have filed a lawsuit that challenges the Commodity Futures Trading Commission's position limits rule that was adopted in October.
The Securities Industry and Financial Markets Association and the International Swaps and Derivatives Association, the plaintiffs in the suit, claim that the commission failed to evaluate the economic impact the rule would have on the financial industry, NYTimes.com reports.
"The evidence is overwhelming that position limits are, at best, unnecessary and may, at worst, negatively impact commodity markets and users," Conrad Voldstad, ISDA's chief executive, said, according to NYTimes.com.
Voldstad and T. Timothy Ryan Jr., the head of Sifma, called the rule, which restricts speculative trading, "poorly crafted" and said it was based on "an incorrect reading of the law."
The complaint, which was filed in federal court in the District of Columbia, asserts that the industry will shift fighting provisions of the Dodd-Frank Act away from the legislative arena to the courtroom instead.
In July, a federal appeals court threw out a rule written by the Securities and Exchange Commission on grounds that it failed to conduct an adequate cost-benefit analysis.
The ruling has prompted regulators to re-examine their Dodd-Frank rules, NYTimes.com reports. The CFTC, aware of potential legal challenges, delayed voting on the enforcement of its position limits rule several times.
The rule ultimately passed in Oct. with three Democratic commissioners voting in favor for it and two Republicans voting against it.