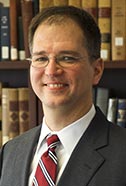 The general counsel of the Consumer Financial Protection Bureau is rebutting charges that the bureau posses too much power and will damage the banking industry.
Leonard Kennedy spoke on behalf of the CFPB's implementation team during a Friday luncheon panel at the Federalist Society's National Lawyers Convention in Washington, D.C. He said the bureau's staff is "committed to doing our best to make wise, pragmatic decisions affecting people's wealth," according to GovExec.com.
Kennedy called the critics' claims that the bureau is politicized and dogmatic "abhorrent."
Kennedy's comments were significant because few CFPB officials have spoken in public regarding the ongoing congressional stalemate over its future.
Todd Zywicki, an economist and law professor at George Mason University, told the audience he disagreed with the functions of the CFPB and called it "the most powerful [bureau] in U.S. history," GovExec.com reports.
According to Zywicki, the CFPB's directorship and independent status within the Federal Reserves means it will operate with zero oversight and will exacerbate the banking industry's reluctance to provide loans.
Alex Pollock, a resident fellow at the American Enterprise Institute, spoke during conference and said that the controversy over the new bureau embodied a major clash of political philosophies regarding the role of government and the abilities and motives of human beings, according to GovExec.com.